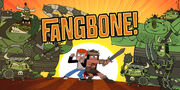 Fangbone! is an 2016 animated Canadian television series slated to debut in July 5th, 2016 on Disney XD in the U.S, while April 2014 (as a Pilot) and 2016 in Canada via Family CHRGD, while planned to be released on Disney XD in Asia and Latin America sometime in late 2016. It also aired in Australia on ABC Me on October 15, 2016.
Overview
Fangbone is a nine-year-old barbarian warrior from Skullbania who has landed in Eastwood Elementary's third grade class to save his native land from the vilest villain, Venomous Drool. With the help of his new sidekick Bill, a lovable, normal, goofy kid, Fangbone outwits his enemies while discovering the modern world.[1]
Cast
References
Ad blocker interference detected!
Wikia is a free-to-use site that makes money from advertising. We have a modified experience for viewers using ad blockers

Wikia is not accessible if you've made further modifications. Remove the custom ad blocker rule(s) and the page will load as expected.